Engraved Name Box I Small & Large Wood Boxes With Lock
£20.00
This rustic, personalised engraved name keepsake box makes a wonderful gift for a loved one! Made from solid pine wood, and finished with high quality wood stain, this elegant, laser engraved wooden box is a gift made to be treasured! This stylish, classic design can incorporate any name, and has a striking, flowing font to add that extra special touch! This box also comes with a secure bronze latch hasp clasp, which also has an option to add a padlock and key (option available at checkout) for increased security - great for storing precious and valued items.

Choose from 6 sizes available, and there are various options for the varnish or stain finish you would like, so you can be sure to have a gift that matches your style! (see colour chart).

Our deep wooden keepsake boxes are made from quality solid pine wood, and are hand finished with a wood stain as well as a protective sheen to add a natural protective coat for day to day use. With a beautiful clasp to secure valuables, this box is perfect for precious items or to use as gift/favour boxes.

See our wooden box section for alternative styles.

PRODUCT FEATURES
✓ Solid Pine Wood
✓ Engraved
✓ Personalise with any engraved text, including option to engrave inside lid!
✓ 6 size options available
✓ Option to add Padlock & Key to clasp
✓ Choose your prefered wood stain colour, or varnish finish (see colour chart)

PERSONALISE YOUR ORDER
Outer and inside lid can be engraved - please choose preferred options during checkout. To personalise your order, just leave a 'note to seller' during the checkout process with the details of the personalised text you would like us to engrave on your box. Please note that personalisations will be added exactly as detailed.

CHOOSE YOUR BOX COLOUR/STAIN FINISH
We offer various options for wood colour stain. Please see our colour chart in the product images to choose your preferred option. Just leave a 'note to seller' at checkout to let us know which finish you would like to choose!

(Box shown in display image has a Tudor Stain finish).

WANT A DESIGN PROOF?
If you would like a design proof of your order before we make it, please leave a note with your order requesting a design proof. Once your order has been acknowledged, we will then provide a design proof within 1 business day. Please note that design proofs will only be provided if requested.

SIZES AVAILABLE (please select your preferred size during the checkout process)

- SMALL BOX
External Dimensions
CENTIMETRES: 16cm(w) x 10cm(d) x 8cm(h) / INCHES: 6.3"(w) x 3.9"(d) x 3.15"(h)

Internal Dimensions
CENTIMETRES: 14cm(w) x 8cm(d) x 5cm(h) / INCHES: 5.5"(w) x 3.15"(d) x 1.97"(h)

- STANDARD BOX
External dimensions
CENTIMETRES: 19cm(w) x 14cm(d) x 10cm(h) / INCHES: 7.48"(w) x 5.5"(d) x 3.93"(h)

Internal dimensions
CENTIMETRES: 17cm(w) x 12cm(d) x 7cm(h) / INCHES: 6.69"(w) x 4.72"(d) x 2.75"(h)

- MEDIUM BOX
External dimensions
CENTIMETRES: 27cm(w) x 20cm(d) x 14cm(h) / INCHES: 10.63"(w) x 7.87"(d) x 5.51"(h)

Internal dimensions
CENTIMETRES: 25cm(w) x 18cm(d) x 11cm(h) / INCHES: 9.84"(w) x 7.1"(d) x 4.33"(h)

- LARGE BOX
External dimensions
CENTIMETRES: 34cm(w) x 24cm(d) x 16cm(h) / INCHES: 13.38"(w) x 9.45"(d) x 6.29"(h)

Internal dimensions
CENTIMETRES: 32cm(w) x 22cm(d) x 13cm(h) / INCHES: 12.59"(w) x 8.66"(d) x 5.11"(h)

- EXTRA LARGE BOX
External dimensions
CENTIMETRES: 42cm(w) x 28cm(d) x19cm(h) / INCHES: 16.53"(w) x 11.02"(d) x 7.48"(h)

Internal dimensions
CENTIMETRES: 40.2cm(w) x 26.3cm(d) x 15.6cm(h) / INCHES: 15.82"(w) x 10.35"(d) x 6.14"(h)

- DEEP EXTRA LARGE BOX (XXLarge)
- External Dimensions:
CENTIMETRES: 40cm(w) x 30cm(d) x 23cm(h) / INCHES: 15.75"(w) x 11.81"(d) x 9.06"(h)

- Internal Dimensions:
CENTIMETRES: 37cm(w) x 27cm(d) x 21cm(h) / INCHES: 14.57"(w) x 10.63"(d) x 8.27"(h)
Can't find what you're looking for? Contact us to request a custom order!
Customer Reviews
04/05/2020
Joanne R.
United Kingdom
Special Gift
After much searching I found Make Memento and I am so glad! The box is a gift and I know that it will be warmly received by the recipient. Choice was vast, ordering simple and communication from the seller was excellent. I was most pleased that you were able to preview your order before it was made so that you were able to check you were completely happy. Because of that, the box I eventually unwrapped was exactly as I imagined - beautiful in every way!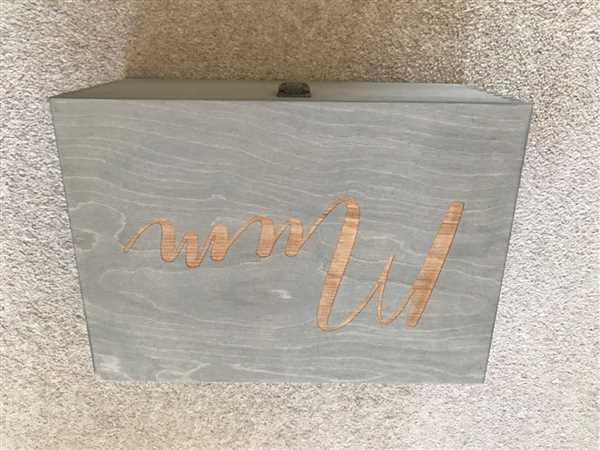 02/21/2020
Kaycee S.
United Kingdom
Fast delivery, beautiful result, great service
I bought this gift for a friend of mines birthday. I got a very fast reply with a proof of my design (when I asked) before they started which looked great. The item came quicker than expected and looked absolutely stunning! Will definitely buy from here again, thank you!
11/15/2019
Jacqueline C.
United Kingdom
Engraved memento boxes
Ordering was easy, customer service excellent. Boxes well made and personalised. Very happy would recommend.